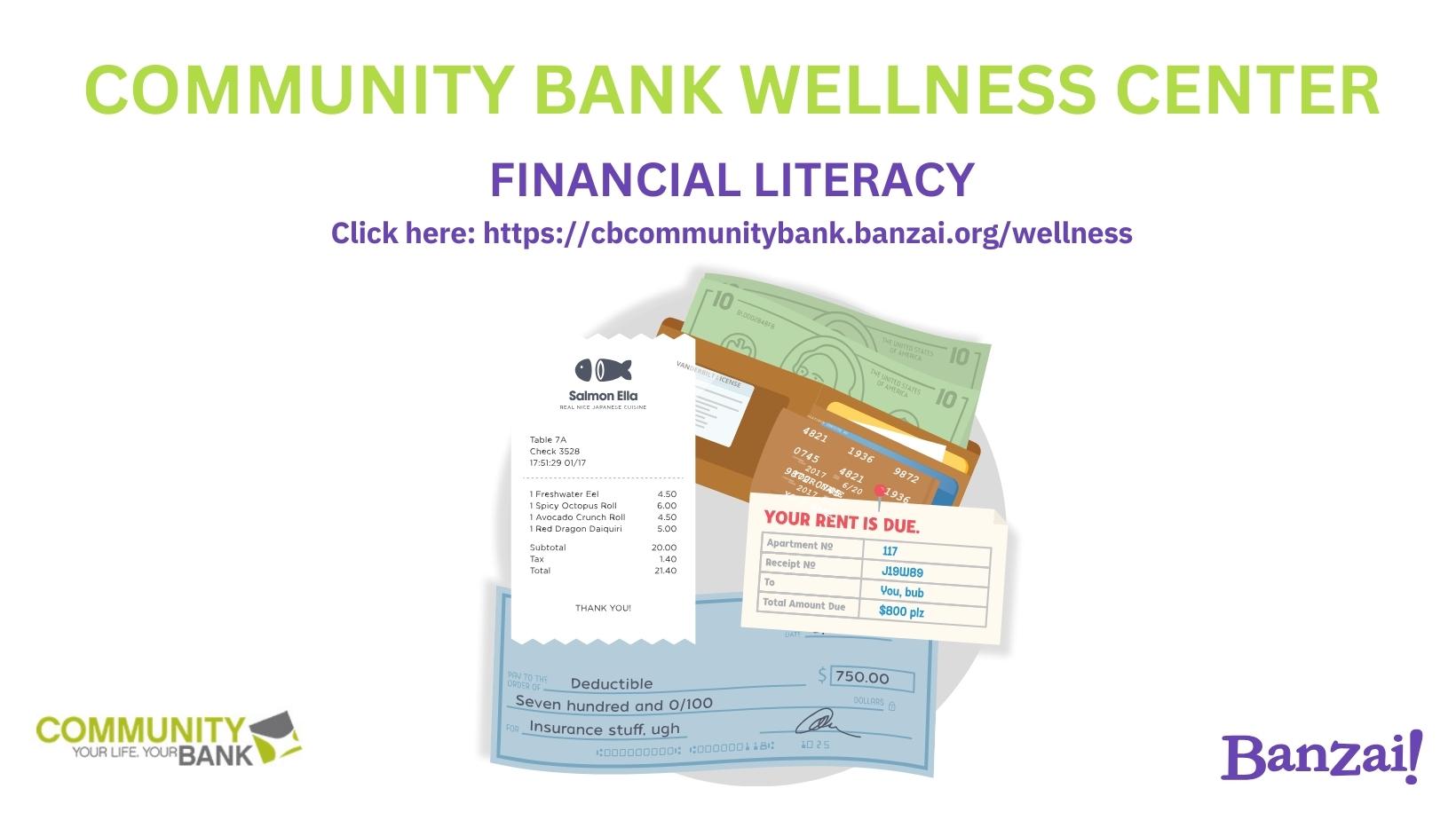 Welcome to Community Bank's Wellness Center!
Become an expert and find a pathway to your financial goals! https://cbcommunitybank.banzai.org/wellness
At Community Bank, we are committed to empowering our customers with the tools and knowledge necessary to achieve financial success and take control of their financial futures. Our Wellness Center is a comprehensive and free resource designed to enhance your financial literacy and empower you to make informed financial decisions.
Our Wellness Center offers a wide array of resources to support your financial journey, including:
Online Coaches: Gain insights and advice from expert coaches who will guide you toward financial mastery.
Informative Articles: Access a library of articles covering various financial topics to expand your knowledge such as running a business, insurance, retirement, taxes, etc.
Educational Courses: Take courses that cover subjects such as budgeting, credit building, emergency planning, and more.
Financial Calculators: Utilize our calculators, including budget and savings calculators, an auto loan affordability calculator, and more to make informed financial decisions.
Stock Market Basics: Learn the fundamentals of the stock market and gain insights into investment opportunities.
Managing High Inflation: Discover strategies to navigate high inflation scenarios effectively.
Financial Wellness Assessment: Assess your financial well-being and create a roadmap to financial success.
Smart Spending Tips: Explore ways to lower your food bills and optimize your expenses.
… and so much more! Unlimited access, all for you!
Our Wellness Center is designed to provide you with unlimited access to these invaluable resources. Whether you're just starting your financial journey or looking to fine-tune your financial skills, our Wellness Center has something for everyone.
Ready to take control of your financial journey?
Don't miss this opportunity to become educated and secure your financial future. Visit our Wellness Center at https://cbcommunitybank.banzai.org/wellness today and embark on your path to financial success. Your journey begins here at Community Bank!